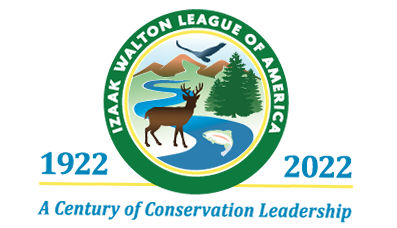 Izaak Walton League – A Century of Conservation Leadership
Over the past 100 years, the Izaak Walton League of America has been an extraordinary champion and defender of the nation's soil, air, woods, waters and wildlife. In this short video, learn about our history of conservation leadership and how you can join us in our second century of success. CLICK HERE TO WATCH THE VIDEO ON YOUTUBE.
About the Izaak Walton League of America
Founded in 1922, the Izaak Walton League is one of the nation's oldest and most respected conservation organizations. With a powerful grassroots network of more than 250 local chapters nationwide, the League takes a common-sense approach toward protecting our country's natural heritage and improving outdoor recreation opportunities for all Americans. We invite you to learn about our work and to join us in supporting important conservation initiatives in your community.
Help us protect America's outdoors. Become a League member today!
Des Moines Chapter House
4343 George Flagg Parkway
Des Moines, Iowa, 50321
(515) 244-3773
SIGN UP FOR THE DES MOINES IKE via EMAIL!
SUBSCRIBE
You'll receive an expanded newsletter with more news, stories, and events; Plus chapter updates as they happen!
Meetings are held every Tuesday beginning at 6 p.m. Dinner is served until 6:30 p.m., with programs starting at 6:45 p.m. There are lots of great programs and delicious meals coming up on Tuesdays at the Chapter House! Check out our Menus and Programs page to find out more! Effective January 1, 2023, dinner tickets will be sold on a first come, first served basis. Reserved tickets will no longer be available.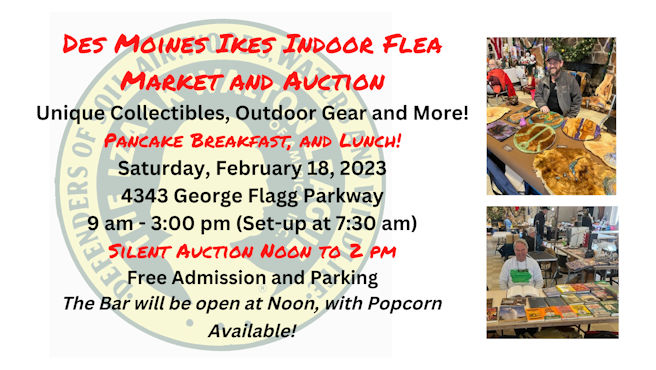 Join us Saturday, February 18, 2023 for the Des Moines Ikes Indoor Flea Market and Silent Auction! Featuring Collectibles, Outdoor Gear and More! 9 am to 3 pm inside the Des Moines Izaak Walton League (Park Avenue and George Flagg Pkwy, across from Jethro's BBQ Southside), with set up beginning at 7:30 am. FREE Admission! Chow down on a Pancake Breakfast from 9 am – 11 am, then Lunch from 11:30 am – 1 pm. We'll have the bar open from Noon – 3 pm, with popcorn available! The Silent Auction runs from Noon-2 pm, and winners must be present to win. Winners will be announced at 2! Auction items should be worth $25 or more. Mark the price you want on each item. Sale price over your "reserve" goes to the Des Moines Ikes as a tax deductible donation. If you have questions or auction items contact Tawnya McCourtney at 515-244-3773.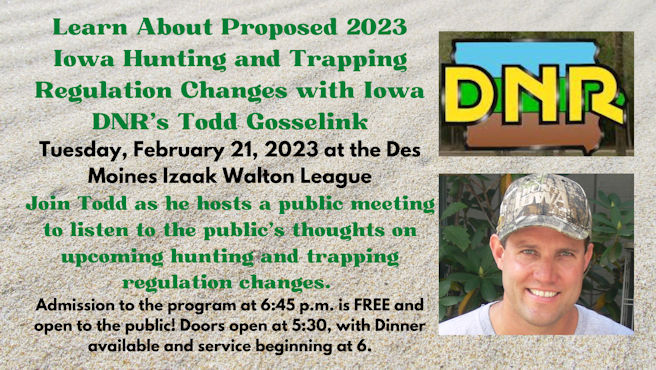 Join the Iowa Department of Natural Resources Todd Gosselink as he hosts a public meeting to listen to the public's thoughts on upcoming hunting and trapping regulation changes. This meeting is part of the process for making rules in state government. At the meeting DNR staff will facilitate a discussion about what went well last fall, what didn't, and what changes hunters and trappers would like to see for this fall. This discussion, along with the data that the wildlife bureau collects on harvest and population numbers, will be used to develop recommendations for any rule changes. Any changes must be approved by the Natural Resource Commission and then go back to the public for further comment before taking effect. Admission to the program at 6:45 p.m. is FREE and open to the public! Doors open at 5:30, with an open bar and Dinner is available with service beginning at 6.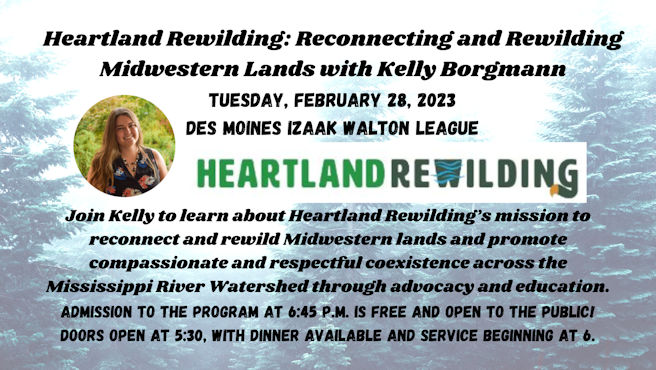 Join Kelly Borgmann, Programs and Outreach Manager, to learn about Heartland Rewilding's mission to reconnect and rewild Midwestern lands and promote compassionate and respectful coexistence across the Mississippi River Watershed through advocacy and education. The Midwest was once one of the wildest and most biologically diverse regions in North America. Now it is almost entirely crops and human development. If we are to respectfully coexist with and restore wild nature in North America, we must reconnect and rewild the Mississippi River Watershed. Admission to the program at 6:45 p.m. is FREE and open to the public! Doors open at 5:30, with Dinner available and service beginning at 6.
Coming Attractions
March 7, 2023: Garrett Drum, Board Member, Backcountry Hunters & Anglers
March 14, 2023: Des Moines Ikes Wild Game Feed, suggested donation $20 adults & $10 kids 10-. For game donations contact Mark Pranger at [email protected] or 515-710-6033.
March 21, 2023: Farmer Appreciation Night
March 28, 2023: Hannah Inman, Chief Executive Officer, Great Outdoors Foundation
April 4, 2023: Brad Woodson, Habitat Viability Manager, Practical Farmers of Iowa
Officers 2022/2023
President: Doug Pooch
1st VP: Mike O'Deay
2nd VP: Bud Hartley
Secretary: Christine Curry
Treasurer: Richard "Bo" Galloway
Honorary President: Tom Holm
Directors 2022/2023
Curtis Cokeley
Michael Delaney
Joe Gavin
Kerry Petersen
Mark Pranger
General Manager

  Like us on Facebook