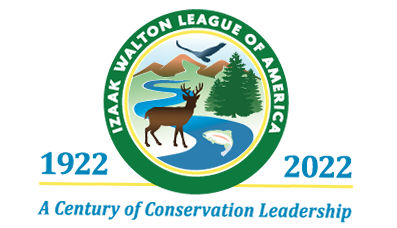 DONATE TODAY TO SUPPORT YOUR DES MOINES IZAAK WALTON LEAGUE
Izaak Walton League – A Century of Conservation Leadership
Over the past 100 years, the Izaak Walton League of America has been an extraordinary champion and defender of the nation's soil, air, woods, waters and wildlife. In this short video, learn about our history of conservation leadership and how you can join us in our second century of success. CLICK HERE TO WATCH THE VIDEO ON YOUTUBE.
About the Des Moines Chapter of the Izaak Walton League of America
Founded in 1922, the Des Moines Chapter of the Izaak Walton League is one of the four oldest chapters still active in the nation. We're part of one of America's oldest and most respected conservation organizations. With a powerful grassroots network of more than 250 local chapters nationwide, the League takes a common-sense approach toward protecting our country's natural heritage and improving outdoor recreation opportunities for all Americans. We invite you to learn about our work and to join us in supporting important conservation initiatives in your community.
Help us protect America's outdoors. Become a member of the Des Moines Chapter of the League today!
Des Moines Chapter House
4343 George Flagg Parkway
Des Moines, Iowa, 50321
(515) 244-3773
SIGN UP FOR THE DES MOINES IKE via EMAIL!
SUBSCRIBE
You'll receive or chapter newsletter with news, stories, and events; Plus chapter updates as they happen!
Meetings are held every Tuesday beginning at 6 p.m. Dinner is served until 6:30 p.m., with programs starting at 6:45 p.m. There are lots of great programs and delicious meals coming up on Tuesdays at the Chapter House! Check out our Menus and Programs page to find out more! Effective January 1, 2023, dinner tickets will be sold on a first come, first served basis. Reserved tickets will no longer be available.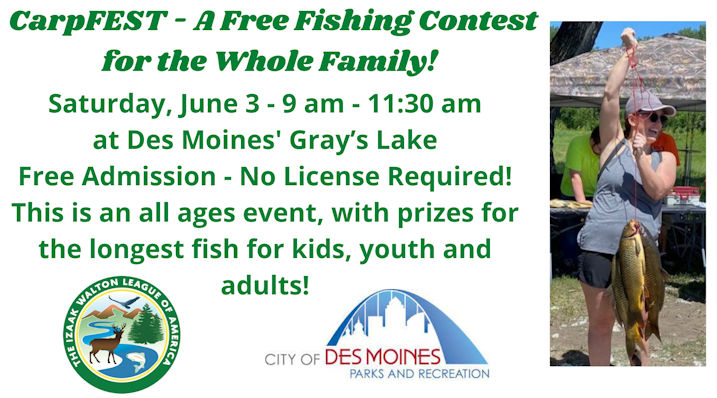 Join the Des Moines Izaak Walton League and Des Moines Parks and Recreation to Celebrate National Outdoors Month and enjoy IDNR's Free Fishing Weekend to try your hand at Carp fishing, and you might win a prize! If you're new to Carp fishing, we'll have bait and gear on hand and instructions to get you started. There's NO FEE, all ages are welcome and no license is required! Prizes will be awarded for LONGEST fish in each category, with both Carp and Gar qualifying for the competition – Buffalo are excluded this year. Registration begins at 8 am with fishing beginning at the horn at 9 am. Measuring will run from 9 to 11:40 am (a horn will sound), and Prizes will be awarded at noon! Categories for prizes: Adults and youth over 16; Boys 15 and under; and Girls 15 and under. Fish must be caught on a hook (no snagging allowed), and you may fish anywhere around the lake except off the bridge. Carp caught may be kept by the fisherman or donated onsite to the wildlife rehabilitation organization S.O.A.R. (Saving Our Avian Resources).
Join AARP's Neil Shultz to learn how to spot scams to protect you and your loved ones through the AARP Fraud Watch Network. From gift card scams, to Medicare fraud, to phone scams fraudsters are very active and deceptive. Your best bet is to stay informed and AARP's Fraud Watch Network can help you do that along with offering support through their Fraud Helpline at 877-908-3360, which is free and available to all! Admission for the talk at 6:45 is FREE and open to all, with a grill your own steak dinner at 6!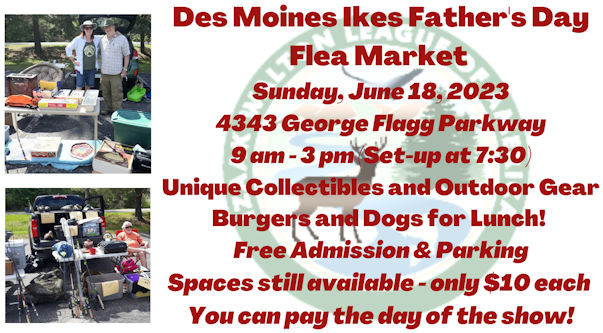 Join us Sunday, June 18, 2023 for the Des Moines Ikes Flea Market! Featuring Great Gifts for Dad, Collectibles, Outdoor Gear and More! 9 am to 3 pm at the Des Moines Izaak Walton League (Park Avenue and George Flagg Pkwy, across from Jethro's BBQ Southside), with set up beginning at 7:30 am. FREE Admission! Chow down on Burgers and Brats for Lunch from 11:30 am – 1 pm. Anyone can rent any number of Parking Spaces at only $10 each! The rental fee is a donation to the Des Moines Izaak Walton League and you can pay at the show. All proceeds go to sellers! For Spaces or questions contact Tawnya McCourtney at 515-244-3773.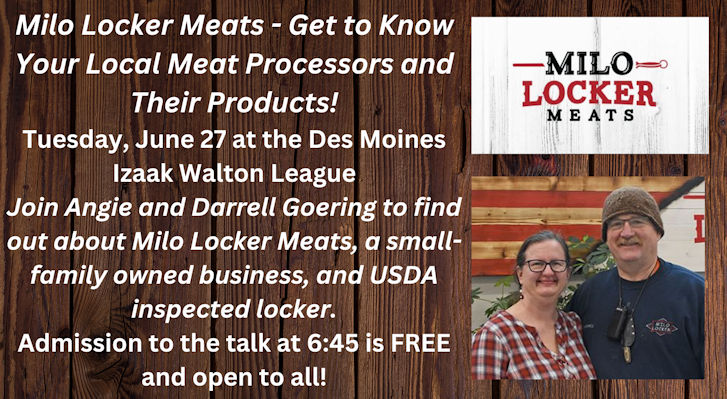 Join Angie and Darrell Goering to find out about Milo Locker Meats, a small-family owned business, and USDA inspected locker. Milo Locker will process your Beef, Hogs, and Deer. Not only will they process your animal, but they do all in-house specialty meats including Summer Sausage, Sticks, Ring Bologna, Jerky and more! If we hold our mouths right, I'll bet they bring some samples! They have great ice cream too! Admission is free for the program at 6:45 p.m. We'll be serving a Fried Chicken dinner at 6, with doors opening at 5:30.
Upcoming Programs
Saturday, June 10, 2023: Special Person's Day at Big Creek. Volunteers needed!
July 18, 2023: Luke Hoffman, Executive Director of Iowa Rivers Revival
August 1, 2023: Des Moines Izaak Walton League Annual Meeting
August 8, 2023: Des Moines Izaak Walton League Annual Sweet Corn Feed!
August 22, 2023: Ruth McCabe of Heartland Co-op on Soil Conservation
August 29, 2023: Kimberly Grandinetti and Kate Honer of the Iowa Environmental Health Association – Their vision is to improve the quality of life for all Iowans through environmental protection and the promotion of public health.
Officers 2022/2023
President: Doug Pooch
1st VP: Mike O'Deay
2nd VP: Bud Hartley
Secretary: Christine Curry
Treasurer: Richard "Bo" Galloway
Honorary President: Tom Holm
Directors 2022/2023
Curtis Cokeley
Michael Delaney
Joe Gavin
Kerry Petersen
Mark Pranger