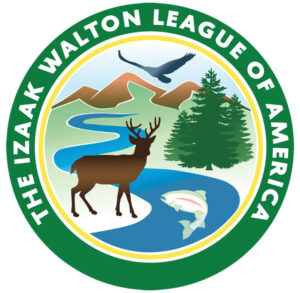 DONATE TODAY TO SUPPORT YOUR DES MOINES IZAAK WALTON LEAGUE
Izaak Walton League – A Century of Conservation Leadership
Over the past 100 years, the Izaak Walton League of America has been an extraordinary champion and defender of the nation's soil, air, woods, waters and wildlife. In this short video, learn about our history of conservation leadership and how you can join us in our second century of success. CLICK HERE TO WATCH THE VIDEO ON YOUTUBE.
About the Des Moines Chapter of the Izaak Walton League of America
Founded in 1922, the Des Moines Chapter of the Izaak Walton League is one of the four oldest chapters still active in the nation. We're part of one of America's oldest and most respected conservation organizations. With a powerful grassroots network of more than 250 local chapters nationwide, the League takes a common-sense approach toward protecting our country's natural heritage and improving outdoor recreation opportunities for all Americans. We invite you to learn about our work and to join us in supporting important conservation initiatives in your community.
Help us protect America's outdoors. Become a member of the Des Moines Chapter of the League today!
Des Moines Chapter House
4343 George Flagg Parkway
Des Moines, Iowa, 50321
(515) 244-3773
SIGN UP FOR THE DES MOINES IKE via EMAIL!
SUBSCRIBE
You'll receive or chapter newsletter with news, stories, and events; Plus chapter updates as they happen!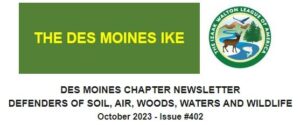 Meetings are held every Tuesday beginning at 6 p.m. Dinner is served until 6:30 p.m., with programs starting at 6:45 p.m. There are lots of great programs and delicious meals coming up on Tuesdays at the Chapter House! Check out our Menus and Programs page to find out more!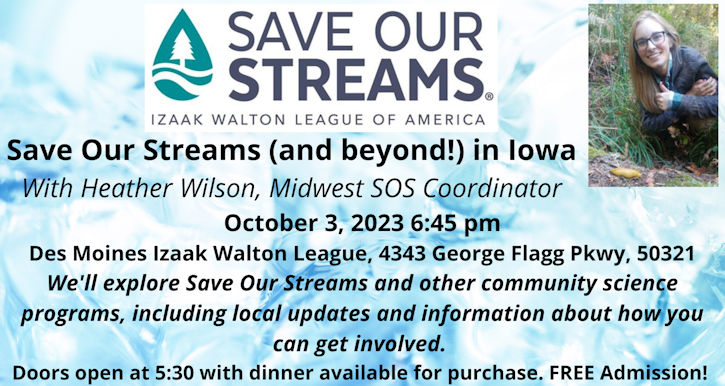 Learn about the many ways to get involved with the IWLA's Clean Water Program right here in Iowa Tuesday, October 3 at the Des Moines Izaak Walton League, 4343 George Flagg Pkwy, Des Moines 50321. We'll explore Save Our Streams and other community science programs, including local updates and information about how you can get involved. Heather Wilson is the Izaak Walton League's Midwest Save Our Streams Coordinator. Her career as an environmental educator is shaped by a love of outdoor education and a passion for the biological sciences. Most of Heather's life has been spent within the Missouri and Upper Mississippi Watersheds. She is excited to play a role in the protection of these waterways for the good of the human and natural communities that call them home. Admission to the program at 6:45 p.m. is FREE and open to the public! Doors open at 5:30, with an open bar, and Dinner is available with service beginning at 6.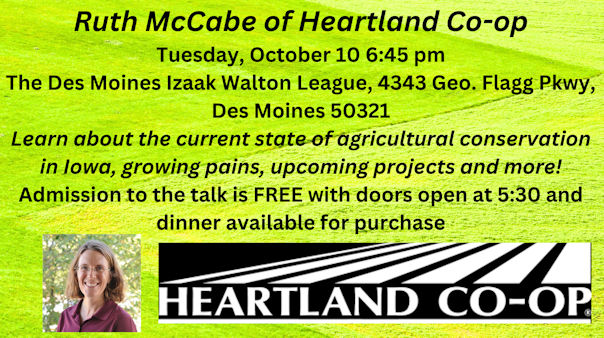 Join Ruth McCabe of Heartland Co-op Tuesday, October 10 at the Des Moines Izaak Walton League, 4343 George Flagg Pkwy, Des Moines 50321, to learn about the current state of agricultural conservation in Iowa! Ruth will talk about exciting things coming up; Growing Pains the conservation community is experiencing; and she'll give us an overview of Heartland's projects. Cover Crop Cost Share, Bioreactors and Saturated Buffers are part of the picture too! Ruth is a Certified Professional Agronomist and an Iowa CCA and I currently work as a conservation agronomist for Heartland Cooperative in central Iowa. She is also a 2022 Nuffield International Farming Scholar studying conservation farming adoption in major grain producing countries around the world. Her professional and personal goal is to increase conservation adoption across the farming landscape in the Midwest. Doors open at 5:30, with dinner available for purchase, and admission to the talk at 6:45 is FREE and open to the public!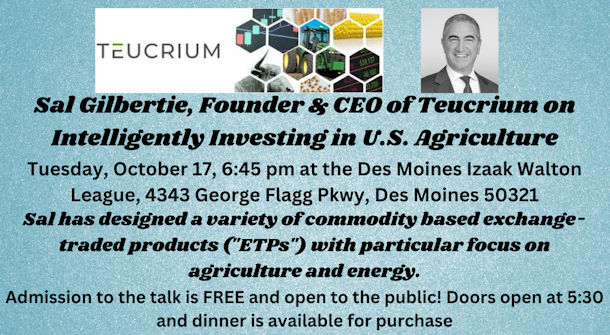 Sal Gilbertie, Chief Executive Officer, President, Chief Investment Officer and founder of Teucrium Trading will talk About Intelligently Investing in U.S Agriculture. The event will be Tuesday, October 17 at 6:45 pm at the Des Moines Izaak Walton League, 4343 George Flagg Parkway, Des Moines 50321. Sal brings deep experience in commodities markets, particularly in the areas of trading and liquidity. He has designed a variety of commodity based exchange-traded products ("ETPs") with particular focus on agriculture and energy. Mr. Gilbertie began his career in commodities with Cargill in 1982; since then he has traded energy and agricultural commodities at Donaldson Lufkin Jenrette, Merrill Lynch, and Bear Stearns. Immediately prior to founding Teucrium Trading LLC, Mr. Gilbertie headed the Renewables Fuels & Commodities Derivatives Over-the-Counter (OTC) liquidity desk for Newedge USA, LLC, a subsidiary of Société Générale (SocGen). Admission to the program is FREE and open to the public! Doors open at 5:30, with dinner at 6 available for purchase.
Upcoming Programs
November 7, 2023: Rich Leopold, Director, Polk County Conservation. Rich will talk about Easter Lake, Sleepy Hollow, Brenton Slough and more!
December 19, 2023: Des Moines Izaak Walton League Christmas Party!
Officers 2022/2023
President: Doug Pooch
1st VP: Curtis Cokeley
2nd VP: Bud Hartley
Secretary: Christine Curry
Treasurer: Richard "Bo" Galloway
Honorary President: Tom Holm
Directors 2022/2023
Michael Delaney
Joe Gavin
Bob Jackson
Mike O'Deay
Shane O'Malley
Kerry Petersen
Mark Pranger