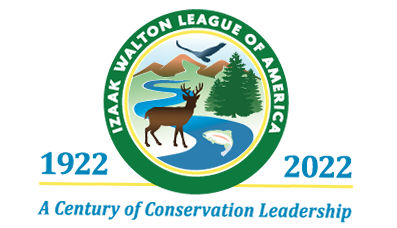 Izaak Walton League – A Century of Conservation Leadership
Over the past 100 years, the Izaak Walton League of America has been an extraordinary champion and defender of the nation's soil, air, woods, waters and wildlife. In this short video, learn about our history of conservation leadership and how you can join us in our second century of success. CLICK HERE TO WATCH THE VIDEO ON YOUTUBE.
About the Izaak Walton League of America
Founded in 1922, the Izaak Walton League is one of the nation's oldest and most respected conservation organizations. With a powerful grassroots network of more than 250 local chapters nationwide, the League takes a common-sense approach toward protecting our country's natural heritage and improving outdoor recreation opportunities for all Americans. We invite you to learn about our work and to join us in supporting important conservation initiatives in your community.
Help us protect America's outdoors. Become a League member today!
Des Moines Chapter House
4343 George Flagg Parkway
Des Moines, Iowa, 50321
(515) 244-3773
SIGN UP FOR THE DES MOINES IKE via EMAIL!
SUBSCRIBE
You'll receive an expanded newsletter with more news, stories, and events; Plus chapter updates as they happen!
Meetings are held every Tuesday beginning at 6 p.m. Dinner is served until 6:30 p.m., with programs starting at 6:45 p.m. There are lots of great programs and delicious meals coming up on Tuesdays at the Chapter House! Check out our Menus and Programs page to find out more! Effective January 1, 2023, dinner tickets will be sold on a first come, first served basis. Reserved tickets will no longer be available.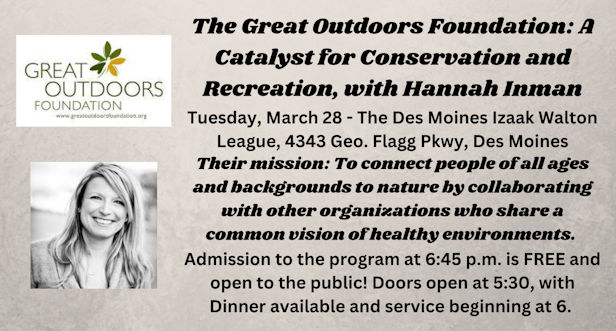 Join Hannah Inman, Chief Executive Officer, of the Great Outdoors Foundation to learn about their mission to connect people of all ages and backgrounds to nature by collaborating with other organizations who share a common vision of healthy environments that provide a variety of outdoor recreation and education opportunities. The Foundation aligns visions, convenes partners, and builds frameworks that yield high-impact projects like ICON Water Trails and the Raccoon River Pedestrian Bridge. Admission to the program at 6:45 p.m. is FREE and open to the public! Doors open at 5:30, with Dinner available and service beginning at 6.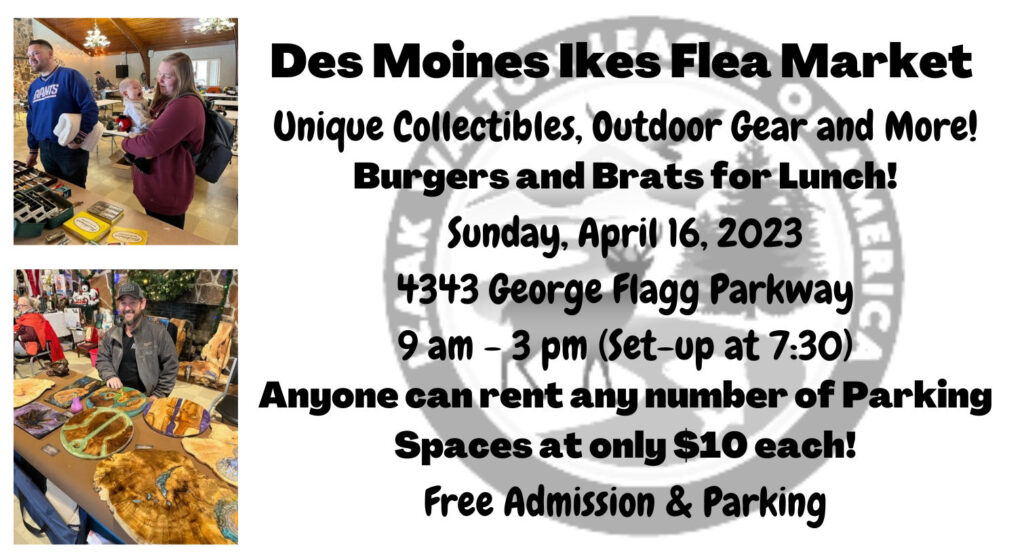 Join us Sunday, April 16, 2023 for the Des Moines Ikes Flea Market! Featuring Collectibles, Outdoor Gear and More! 9 am to 3 pm at the Des Moines Izaak Walton League (Park Avenue and George Flagg Pkwy, across from Jethro's BBQ Southside), with set up beginning at 7:30 am. FREE Admission! Chow down on Burgers and Brats for Lunch from 11:30 am – 1 pm. Anyone can rent any number of Parking Spaces at only $10 each! The rental fee is a donation to the Des Moines Izaak Walton League and you can pay at the show. All proceeds go to sellers! For Spaces or questions contact Tawnya McCourtney at 515-244-3773.
2023 Iowa State Convention Packet and State Resolutions
Friday April 21 – Saturday April 22
Des Moines Izaak Walton League
4343 George Flagg Pkwy
Des Moines, IA 50321
Listed below are the groupings of information in your packet for the 2023 Iowa Division State Convention and Award nominations. Please read through the packet carefully and share with your membership. With this year being our 1OO year Iowa Division Anniversary we would love to have a large turnout for the state convention at the Des Moines Chapter house, 4343 George Flagg Pkwy, Des Moines, IA 50321.
Convention & Meal Ticket Registration
Convention Hotel Information
Award information and Nomination Forms (Send to Iowa Division by 3/20/23)
Resolution process
Delegate Rules
Chapter Delegate Counts -Needed for Delegate Registration
Delegate Registration – (Send to Iowa Division by 4/16/23)
2023 Nomination Form for Iowa Division Leadership
Spring Newsletter
Thank you for all you do for the IWLA! We couldn't succeed without our dedicated
volunteers!
Rick Cerwick
President, Iowa Division
https://desmoines-ikes.com/wp-content/uploads/2023/03/2023-IWLA-State-Convention-Mailing-Spring-Newsletter.pdf
Coming Attractions
April 4, 2023: Brad Woodson, Habitat Viability Manager, Practical Farmers of Iowa
April 25, 2023: Agriculture's Clean Water Alliance with Kristen Dearden
May 9, 2023: Peter Eyheralde, Board Member, Iowa Prairie Network
May 23, 2023: Tyler Stubbs, Iowa DNR FISH LOCAL
Officers 2022/2023
President: Doug Pooch
1st VP: Mike O'Deay
2nd VP: Bud Hartley
Secretary: Christine Curry
Treasurer: Richard "Bo" Galloway
Honorary President: Tom Holm
Directors 2022/2023
Curtis Cokeley
Michael Delaney
Joe Gavin
Kerry Petersen
Mark Pranger
General Manager

  Like us on Facebook